Puppies are here!  Whelped on 5 May 2023! 12, count 'em, 12 awesome bundles of golden joy!!
ALL PUPPIES FROM THIS LITTER ARE NOW SOLD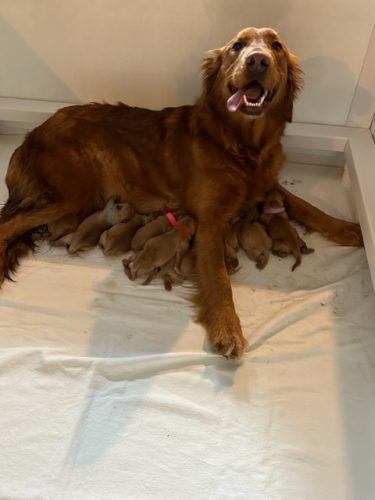 "Summer '23" litter with "Penelope" and "Hollywood"!  
Please contact me using the puppy inquiry tab for details and latest info on availability!
This litter will produce dark gold field bred Golden Retriever puppies of the highest quality, temperament, intelligence, and beauty available. 
The Sire, "Hollywood" (aka "Woody" – TOPBRASS LIL' WHISKEY IN MY WATER CGCA/TKN) is our own loveable boy/stud and has been with us since he was a baby.  Extremely well-mannered and obedient, he instantly charms everyone he comes in contact with.  He is the perfect combination of athleticism and laid-back lovability.  Strikingly beautiful,  good natured and just a bit goofy all built into one fabulous boy.
The Dam, "Penelope" (aka "Penny") – MOUNTAIN VIEW'S NO POINTS FOR SECOND PLACE CGCA/TKN) is a once in a lifetime dog.  She is extremely gentle and loving, as well as an excellent athlete.  She is very energetic and playful, and while gorgeous and majestic, she loves to dive into whatever water she can find, and chase/retrieve anything you can toss, and even get a little muddy if that's an option.  She also has a very sweet, tender and emotional side. Very attentive and calm, she brings a smile every time.  And simply gorgeous to boot…
Both these parents are priceless members of our family and have impressive accomplishments representing this awesome breed.  Both have completed years of training (on-going) and are AKC Titled Canine Good Citizens, AKC Community Canine, AKC Trick Dog (N), and are Certified Therapy Dogs with the ALLIANCE OF THERAPY DOGS.   Both dogs have undergone significant testing through the Orthopedic Foundation for Animals (OFA) as indicated on their individual pages.
Price is $2400 for Limited AKC Registration.  Includes health warranty, initial shots, microchip and medical exam/records.